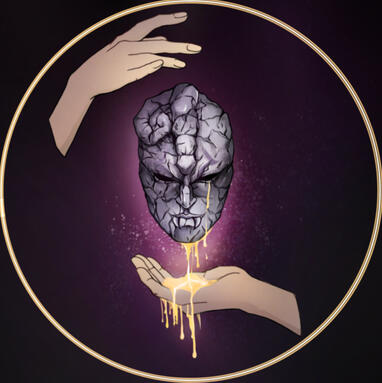 ✦IN TEMPORE DEORUM✦
---
- A JJBA MYTHOLOGICAL DEITIES FANZINE -
---
✦ ABOUT THE ZINE ✦
In Tempore Deorum (In the time of Gods) is a SFW fanzine featuring Jojo's Bizarre Adventure characters as mythological deities. Aiming to be as diverse as possible, mythologies from all around the world shall be depicted.
✦ CURRENT STATUS: PRODUCTION ✦
---
✦ FAQ ✦
---
last update: jan 7th
Application guideline can be found here.

✦ ABOUT THE PROJECT ✦

• How many contributors are you looking for ?
Depending on the interest check and applications, the number may vary. At the moment, I'm considering of having 40 contributors (all roles included).
We'll only have artists and merch artists on this project.

• Will contributors receive a free copy of the zine ?
This is one of the main goal of the project. At the moment I can't guarantee a profit split but I will make sure that each contributor will get a free copy of the zine and their own production.

• Will this be for profit or charity ?
The raised funds will first be used for the production and the remainder of profits will be split evenly amongst the contributors. Donations may be done at their discretion.

• SFW or NSFW ?
I want to keep it SFW so there is no restriction.

• Can I post my work outside of the fanzine ?
In the end, your work belongs to you but I will ask you to keep it secret and refrain from sharing WIPS of your work during production time unless stated. You can obviously sell your work outside the zine once the project is done.

• Will you be inviting guests ?
Yes! I do have some artists in mind that I'd be grateful if they could join us on this journey. They shall be revealed soon enough.

• Is there an age restriction ?
Actually, there isn't really a specific age restriction. You just have to be comfortable enough with slight blood/nudity as some illustrations may contain. You also have to be able to provide me freely your personal information if you end up being a contributor.

• How much experience do artists need ?
You don't need to have experience beforehand to apply or to get accepted! Don't be afraid to try!

• Do I need a PayPal account to apply ?
All contributors will be asked to create a PayPal account if not already, as payment will be sent through PayPal. PayPal requires you to be at least 18. A minor can either have the money sent to a family member, someone else they know of legal age or give their share to a charity association. Other than that, anyone's welcome to participate!

• Will the zine comes with stretch goals ?
Yes! At the moment, I am considering having 3 merch stretch goals.

• Will you give feedback to applicants?
Due to time constraints and the number of applicants, I will not be offering criticism or reasoning for acceptance or rejection emails. Please keep in mind being rejected is NOT a reflection of your skills nor a reflection on your quality as an artist.

• What skills are you looking for in artists ?
More than anatomy accuracy, I will be looking at overall composition, feelings, color palette, style and expressions!

____

✦ ABOUT THE CONTENT ✦

• Will all JJBA parts be depicted ?
Yes of course! I'd make sure that all parts will be evenly balanced.

• Are Gods and Goddesses the only subject? Can we depict mythological stories/legends/creatures or folktales ?
Mythology is really wide and to not make it too complex, I would like to focus on deities only. I'd love to depict folktales but this time I'd like to separate these 2 subjects. We will only focus on mythological figures and more precisely Gods and Goddesses only. There is already a wide range of figures so I don't think you are going to lack choices!

• Are ships allowed ?
Update: If you plan to draw more than one character, you are more than welcomed to portray relationships through deities, such a hatred, fraternal bonds, anger or rivalry. I'm just asking you to not make all your piece about romance. It should not be the center of the piece, try to make it subtle since the main subject is still to portray a mythological figure.

• Do we get to choose our characters and mythology ?
I will try to make sure you get at least one of your main choice. I can't guarantee you that you will get your first choice since I'd like to balance the content. I plan to assign a JJBA part and mythology, then contributors should be able to choose their characters/deities, this will be discussed with everyone. More information will be given once the contributor line up is made.

• Can a background be the main focus of the piece ?
Mythology not only has figures but also locations, while the main subject is depicting mythological figures, you can also add a location (e.g.: Helheim ruled by Hel). Make sure your character(s) are big enough to recognize them.

• Are traditional works allowed ?
Yes. Make sure you can submit a high-quality scan of your work.

• Would you be interested in allowing cosplayers to join ?
As much as I'd like to make it diverse, I would like to keep it simple for now since it's my first project alone. I would totally be interested in a future project involving cosplayers, though!

• Is a realistic style preferred/required ?
Not at all! Let's make this zine as diverse as possible, having multiples styles!

• Will it be single character pieces or can it include multiple ?
Draw as many characters as you want!

• Will we able to draw more than one mythology ?
As for now, each artist has to draw one illustration based on one mythology. If artists are able to create a second piece within time, they certainly will be able to choose another theme. It will be discussed!

✦✦✦
Have more questions? Ask here ! Feel free to reach me out on Instagram, Email or Twitter. This FAQ will be updated whenever I get a new question.
✦ SCHEDULE ✦
---
TENTATIVE SCHEDULE
(subject to change)
DECEMBER 10 - 24: Interest check
JANUARY 01 - 24 : Contributors Application
JANUARY 29 : Acceptances/Rejections Emails
FEBRUARY - MAY : Creation period
JUNE - JULY : Preorders + Previews
AUGUST - SEPTEMBER : Manufacturing
NOVEMBER : Shipping
✦✦✦
The production time or manufacturing may take longer than stated above as I'm handling this project alone (this is my own choice).
✦ GUIDELINE ✦
---
Thank you so much for your interest in this zine! You will find the guideline below.

All contributors will be required to join a discord server. All important information and announcements will be posted on the server. You are not required to chat or be active on the server if you don't feel like it.All contributors are required to meet the deadline within the time given.Your submitted work must be entirely new and created exclusively for the zine. Older published/posted works will not be allowed. I will also ask you to refrain from posting your full piece until permission is given.All contributors have permission to sell their work for personal profit after the project is closed. It is not allowed to sell another creators' works outside of the zine except for the creator of the work. Merchandise will only be available for resale to the original creators of said merchandise.
✦ ARTISTS GUIDELINE ✦
Each artist is expected to complete at least 1 full and finished illustration with a simple or detailed background for the zine. Backgrounds don't necessarily have to be complicated, just don't leave it blank, please! Both traditional and digital artworks are welcome.

Templates and further information will be provided on the discord.

✦ MERCH ARTISTS GUIDELINE ✦
You don't need experience as a merch artist beforehand. This zine can be the opportunity for you to create your first merch and get out of your comfort zone!
Merch artists are expected to create at least 2 pieces of merch, full-colored for this zine. Type of merch will depend on the interest check and merch artists preferences. Though, I would like to balance as much as possible the amount of work.
Make sure your art is clean for the type of merch you would like to create.

Tentative Merch Specs (subject to changes):
✦ Pins: clear art with no stray marks.
✦ Stickers: We will have simple stickers or stickers sheet. Keep in mind that it should look like a die-cut sticker.
✦ Charms: double-sided so make sure your art looks good even flipped.
✦ Bookmarks/Prints: For these types of merch, refer to the artists guideline above. You won't be expected to draw a background, a simple design is enough. Not a full illustration is required either.

✦ PINCH HITTER ✦
I do understand that life can get rough sometimes and unexpected events can happen. If any contributor needs to drop out for whatever reason all I'm asking you is to let me know as soon as possible, so I will be able to contact a pinch hitter.

If you are willing to agree to the guideline above, you are more than welcomed to keep reading to get ready when contributors application shall open!

✦✦✦

✦ WHAT YOU SHOULD EXPECT DURING APPLICATION ✦

You can apply for both roles. Make sure you are able to meet the guidelines. If applying for 2 positions, you will be required to submit BOTH the requirements.

FOR ARTISTS:
1 portfolio link is required, this can be your Instagram, DeviantArt, your portfolio website, a Google Drive folder, your Tumblr art tag, etc. Your art must be easily accessible, clearly visible at the start and easy to scroll.You will be asked to submit at least 3 links to colored and completed pieces of what you consider your best works (5 samples max). At least one must include a simple background and one showcasing at least a half-body.While having JJBA pieces would be helpful to see how you would depict them in your style, it's not at all necessary to judge your application.PLEASE DO NOT SUBMIT WIPS. Wips or sketches can be on your social media account though.
FOR MERCH ARTISTS:
If you don't have experience beforehand: you will be expected to submit the same requirement as artists. Please refer to the guideline above. You will NOT be required to provide samples of past designs merch. If you do have some designs (non-manufactured) feel free to provide them.If you do have merch experiences: You are more than welcomed to share your past designs merch in your portfolio. You will be able to provide up to 3 merch designs you've created (either for zines or your own shop).If you plan to contribute with bookmarks, posters or prints you are required to submit the same portfolio as artists. Backgrounds don't necessarily have to be detailed. You won't be judged based on this, a simple design will be enough.
You may link your samples work from Twitter, Tumblr, Instagram, or Google Drive links. Please make sure it is accessible and sharing is enabled! I will not reach out to you if your links are broken so please double-check everything work before submitting!
More than anatomy accuracy, I will be looking at overall composition, color palette, style and expressions!

Best of luck, I'm excited to see all your applications!

✦✦✦

If you have to drop out for whatever reason, I'm just asking you to let me know as soon as possible, though I understand that life happens. If you need any help, or if you have issues, please don't be afraid to let me know. I've been part of a few zines now and I know that it can be stressful sometimes. Remember that this project is meant to be enjoyable and creative! Let's have fun, not stress !

✦ MODERATOR ✦
KJ ★ | 24 | she/her | infj

Hi! You can call me KJ or Reiko. JJBA has consumed me for the past 7 years and ever since then my life revolves around this masterpiece. I aspire to create more art and to bring projects to life.

✦ EXPERIENCES: I've participated in more than 10 zines as a contributor but never hosted a full project alone. This is quite challenging as it will be my first zine project but I'm very excited to make it happen. I also ran a store through 2020 summer, selling prints.

✦ Zines as contributor :
Traditori: La Squadra zineCrime Spree: A Stone Ocean zineVanity: Villain Fashion zineBreathe: a KNY zineNTWICB side AHeirloom: Mudad zineFiori: JJBA flower zineThe Devil's Playground: FMA antagonist zineLightxCameraxFashion: a HxH Fashion zineJojo School AdventureNTWICB side B
English not being my main language, feel free to let me know if I made any mistakes !
✦ CONTRIBUTORS ✦
---
✦ PAGE ARTISTS ✦
---
Acton ✦ Alice Choi ✦ Angel ✦ Arquebun ✦ Cheese
Debiru ✦ Dyalexa ✦ Eruzuri ✦ Giogionella ✦ Hajnarus
HN ✦ Jules ✦ Kaprikorn ✦ Karies ✦ Laura
Lily ✦ LNR ✦ MINO ✦ Moeg ✦ Moldy 666 meat
Moth ✦ Naira Ivory ✦ Naomi ✦ Obergurke ✦ Ori
Oxerdace ✦ Rein ✦ Reta ✦ Sabela ✦ Scorn
Smallkebab ✦ Star Yoru ✦ Stunty Timo ✦ Trainwreckblond ✦
Trevissero ✦ Tyulezhik ✦ Ultracat
---
✦ MERCH ARTISTS ✦
Elionnee ✦ Mer ✦ Suzuki ✦ Ritsuwis ✦ Teesshu
Tripehoot ✦ Wispy
---
✦ SPECIAL WRITER ✦
Corinna
---
✦ HOST & CO-ADMIN ✦
KJ ✦ LAPASSHONE